Music Lessons: Finding the Right Fit for Your Child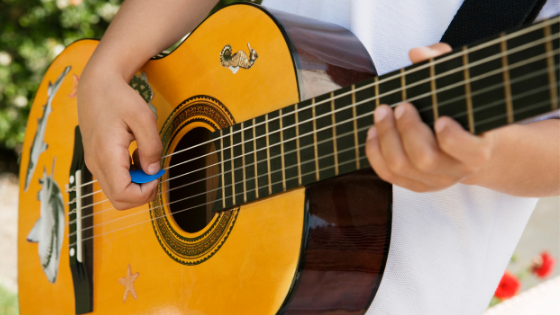 I had the nicest music teacher when I was growing up. She enjoyed sharing her passion for piano with me, and had a strict formula to follow when teaching all of her students. The same formula applied to each student.
I disliked every minute of it: playing in sync with the metronome, sitting in her stuffy piano room each week, and having to get dressed up for a tension-filled piano recital twice a year, which included listening to her play a lengthy piano concerto that had no relevance or connection to my 8-year-old self. 
Fast forward to recent years, when both of my kids started expressing interest in learning an instrument. I knew music lessons could look different – and do a much better job engaging the kids – but I didn't know where to begin. 
Enter Music House, a community of music teachers run by musicians. When you walk into any of their three locations, you immediately feel the connection students (and teachers) have to their music. Some students are learning independently, others are playing together in bands, a few are sitting on one of the couches outside the practice rooms, discussing their next song. It feels like a real recording studio. You can tell the students feel like they are a part of something bigger than themselves. 
That's not to say Music House doesn't have a curriculum. They do. It's that they go beyond the curriculum, with: 
Community Classes:

This ever-changing rotation of a la carte-style Saturday classes (free for Music House students), cover everything from stage presence, to digital recording, to jam sessions. So even a beginner can quickly become a part of the music community.

Group Play:

Each student can eventually join an ensemble, in whatever genre they like. Music House provides a space for them to rehearse, write music, and perform regularly. I'm still amazed at the quality of some of their bands!

Concerts:

There is always a concert going on – so your child can enjoy the music of other students, and finally get the nerve up to perform on their own. In this instance, it's a welcoming process that helps them build confidence before they get up on stage for the first time. 
As a parent of one young musician who doesn't always love to practice, I appreciate that Music House has check ins every other month. It's helpful to get these regular updates – and it makes me feel even more get involved in the community. I also like that each location is run by administrators who are always there to answer my questions. It gives my son a sense of independence, since I'm not always checking in with his music teacher, and it helps me figure out next steps in his music journey. 
All of this is a long way of saying, our time at Music House feels like a true partnership. The teachers and staff do everything they can to share their enthusiasm for music with each student. And the organized way they approach it doesn't leave us scrambling to re-configure the schedule each week. It's a win-win!