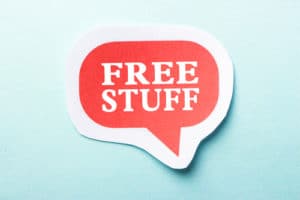 Who doesn't love FREE STUFF? We do! But more that, we love to be the giver-awayers-of-all-the-free-stuff (a technical blogging term, look it up).
Why Monday? Because that dark cloud cast over every Monday morning needs a little brightening…who knows, when you win a free case of something on Monday – you'll be actually wanting A Case of the Mondays!
Stay tuned for our next giveaway…coming soon!
VIP Breakfast with Curious George
Sponsor: Paradise Park
Curious George and The Man With The Yellow Hat are coming to see all their friends at Paradise Park, and some extra lucky kiddos (and parents) will have the chance to meet him during a Private VIP Breakfast! Don't miss this chance to meet one of the most beloved characters – enter now for the chance to win a Curious George VIP Breakfast ticket 4-pack for Saturday, Sept. 29.
Congratulations to Curious George VIP Breakfast winner, Sheri Fisher! Didn't win this time? There's still time to sign up for the chance to visit with Curious George, everyone's favorite monkey, at Paradise Park on Sept. 29.
Giveaway
Terms and Conditions
Must be 18 years of age to enter and win. Only one entry per household will be considered. No substitutions or transfers. Giveaway prize is not redeemable for cash. By entering, winner consents to allow the use of his/her name for promotional purposes without further compensation. Winner releases all sponsors of liability regarding use and enjoyment of the prize. No purchase necessary to enter or win.