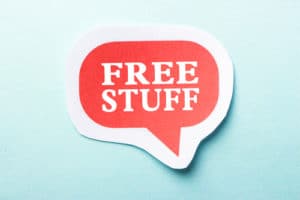 Who doesn't love FREE STUFF? We do! But more that, we love to be the giver-awayers-of-all-the-free-stuff (a technical blogging term, look it up).
Why Monday? Because that dark cloud cast over every Monday morning needs a little brightening…who knows, when you win a free case of something on Monday – you'll be actually wanting A Case of the Mondays!
Stay tuned for our next giveaway…coming soon.
Family Hayride
Sponsor: Paradise Park
Make great memories at  Paradise Park's Family-Friendly Daytime Hayride! One lucky winner will get a free  4-pack of tickets so you and your family can experience this  picture-perfect, harvest-themed hayride, complete with a campfire and delicious s'mores for everyone. Hayrides run every Saturday & Sunday through October 28, 2018.
Giveaway
Congratulations Yuridia Luna, winner of the Paradise Park Hayride ticket 4-pack. We hope you enjoy your time at Paradise Park as much as we do!!!
Terms and Conditions
Must be 18 years of age to enter and win. Only one entry per household will be considered. No substitutions or transfers. Giveaway prize is not redeemable for cash. By entering, winner consents to allow the use of his/her name for promotional purposes without further compensation. Winner releases all sponsors of liability regarding use and enjoyment of the prize. No purchase necessary to enter or win.