Music House Online Classes Available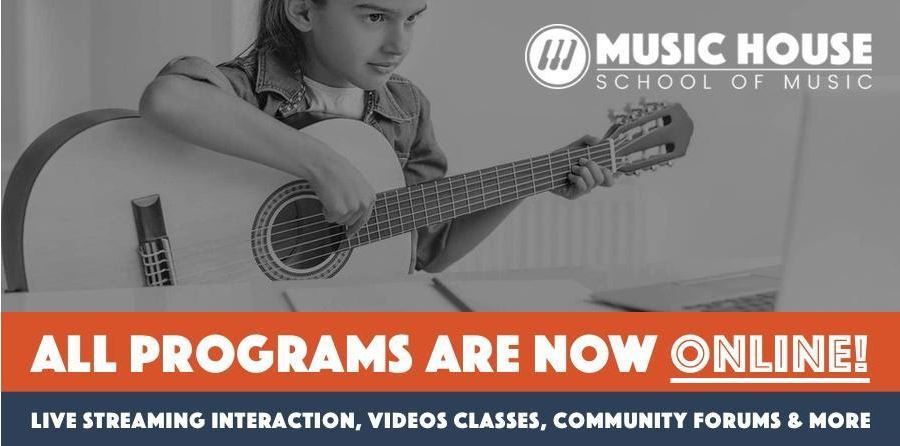 I don't know about you, but I'm feeling like a parent failure these days. Trying to balance the stress of the pandemic while being there for my family, work and my new role as home-based teacher (turns out I'm still terrible at 5th grade math) is really starting to get to me. Getting completely side-tracked from our daily routines isn't helping either. Half the time, I don't even know what day of the week it is.
Enter online music lessons from Music House. As they say, music is food for the soul … and it might just create the sanity this family needs during these bizarre and scary times. While they can't do anything about my stress levels or my work load, Music House teachers can give my kids something to take their minds off what's happening, and better yet, give them goals to strive for each week.
Even online, Music House holds true to their core belief system: Musical passion and advancement thrives within a vibrant community, through diverse exposure and interaction. Here's what you get with their online classes:
Live Video Streamed Lessons: Students regularly interact, live and in real-time, with their teachers and with each other, sharing ideas, asking questions, demonstrating, and performing.
Community Forums: These forums are bustling with conversations, uploaded videos, music suggestions, and recording projects. And, they are administered by the teaching faculty so it's comfortable for all ages to join the conversation.
Supplementary Video Classes: Students have access to their entire catalog of online Community Classes covering every imaginable corner of the music world, from songwriting to recording to jamming and beyond. If your child wants to learn more, they can!
Secure Instant Messaging: Not a musician yourself? No worries! In between lessons, students (and their parents) can text questions to your teacher, and get a quick response. All messaging is monitored by the Music House team, and no phone numbers are visible.
Parents get a bonus too, with discounted lessons for KC Kids Fun readers: Mention KC Kids Fun, and you'll get $25 off online classes in April and May. Click here to learn more about the online music program. There's no better time to give your kids the gift of music in their lives!
Good luck, and know we're all thinking of you.