Get Out and About Safely: Summer 2020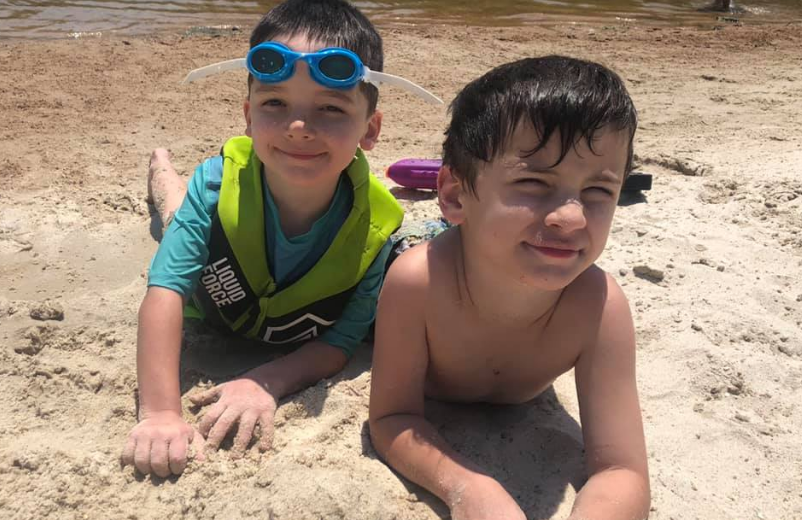 As I said in the Make Your Stay at Home Summer Fun blog earlier this summer, I have been desperately trying to keep everyone (including me!) happily occupied and having fun.
Road Trip
With one successful mini vacation under our belts, we ventured to another AirBnB, this time with Grandma and Grandpa. Just like us, they needed to get out of their house, and we decided as a family that we were comfortable being together in close quarters after a long separation. 
So we booked our AirBnB and drove to Bella Vista, AR – just 3 hours from Overland Park. Highly recommend! Our home was located on Loch Lomond, a pristine private lake with gorgeous scenery, and one of many lakes in the area. 
We arrived at the house, and headed straight for the dock. The homeowner provided a pontoon boat and three kayaks tethered right to our personal dock. Seclusion was key: We didn't stop at any public places, I pre-packed all of our meals for the six of us, and we enjoyed three days of fishing, lake-swimming, and boating. It was perfect. 
Camping Adventure 
A few days after returning home, we decided to have an outdoor adventure closer to home. So we went camping under the stars. My husband is an avid camper and all three of my boys are Boy Scouts, so pitching a tent and roasting dinner over a campfire is a thrill for these guys. 
We have camped out in various state parks around KC, but we wanted a more secluded option. I found a cool service (much like AirBnB) called HipCamp. We reserved a primitive camp spot on a farmer's private land in Edgerton, MO. On his massive homestead, he offers a manicured site next to a lake, surrounded by wildflowers. He provided chopped wood for our campfire as well. In the morning, we stopped by his barn to check out the goats, there were even a few babies. He sells goat's milk, eggs, and some fresh produce on your way out. Great stay!
What's up next? We're not sure, but we'll keep you posted.
Wish us luck!