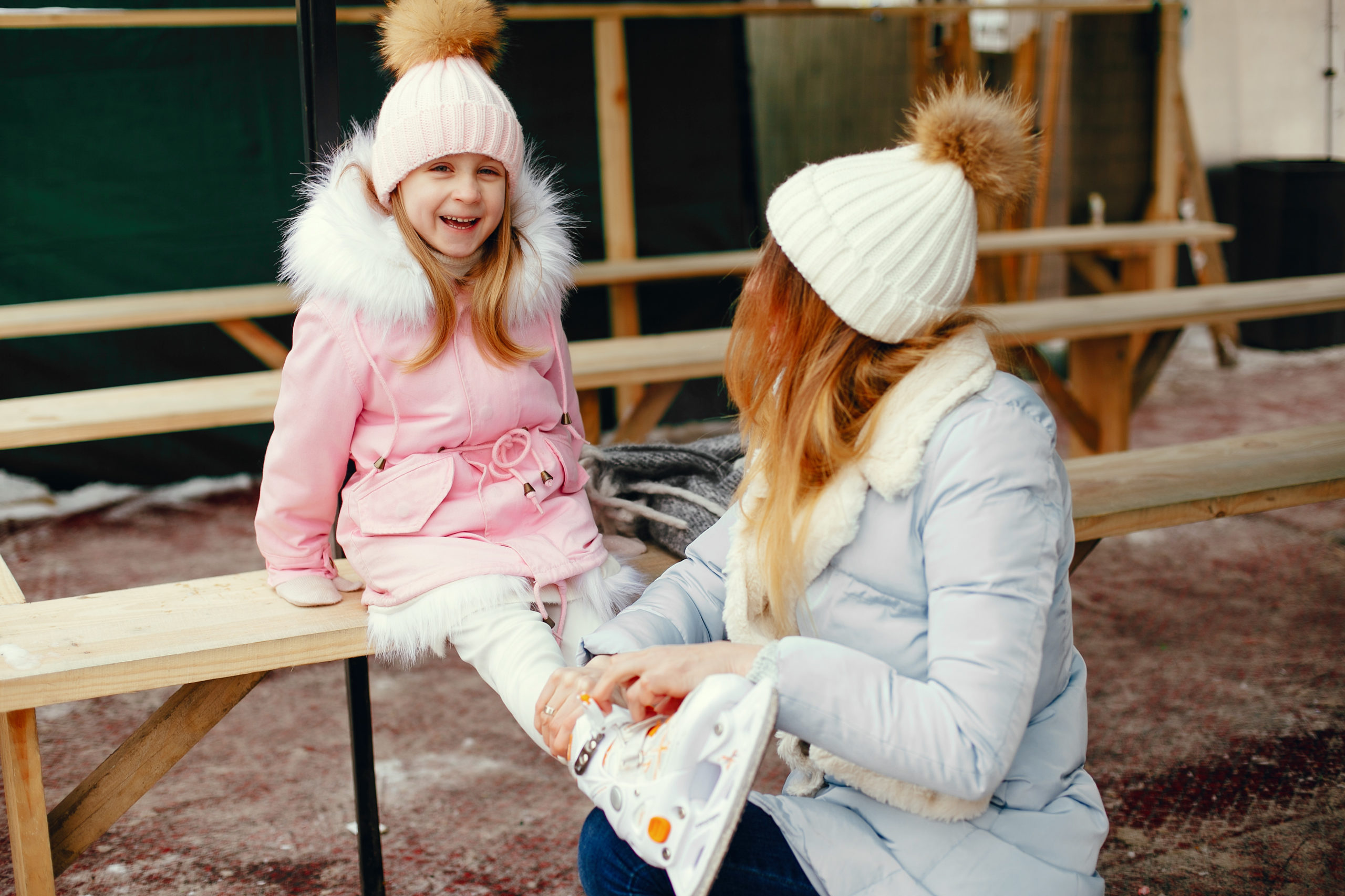 We love ice skating: at one of KC's outdoor rinks when it's not too cold, and indoors when the weather goes south. Here are some tips we've discovered along the way to make skating a fun – and safe – experience:
Skate Fit
Make sure everyone's skates fit well. Your ankles and feet need appropriate supports to prevent rubbing, blisters, twisted ankles and "tripping" on the ice. I have everyone wear thick socks for added comfort. To help make sure kids' skates fit well when they're anxious to get on the ice: Remind them on the way to the rink that they'll have plenty of skating time, and will be much happier on the ice if their feet feel good.
Learn to Skate
There are two schools of thought: Teach them yourself, or hire a teacher. I was of the first school of thought until my daughter pulled me down on the ice during a mother-daughter lesson. It took my knee 2 weeks to get back to normal size. Many local ice rinks offer teachers on-site to get your kids started – at a reasonable price. It's much cheaper than a visit to the doctor's office!
Whether you choose scheduled or on-site lessons, make sure the skating teachers to show your kids (and you) how to fall properly, and how to get back up on the slippery ice. Most local skating rinks offer both types of lessons; call ahead to check before you arrive.
Follow the Rules
Make sure to point out to your kids which direction people are skating, and what parts of the rink might be reserved for beginners. It's pretty universal that the less-experienced skaters stay on the outer edges of the rink, and more experienced skaters are closer to the center of the rink.
A Note on Birthday Parties
Both of my kids have cold-weather birthdays, leaving me scrambling for active party ideas that keep the kids moving (and not screaming in the basement). Ice skating has been a perfect fit over the years. When the kids are younger, we asked parents to stick around – at least to help them get skates that fit. We've learned it's well worth the money to hire one or two of the ice rink's skating teachers to help those kids who are learning to skate, and keep an eye on all the kids when they're out there skating.
Find a local ice skating rink here, and happy skating!