Urban Air Overland Park Expands Offerings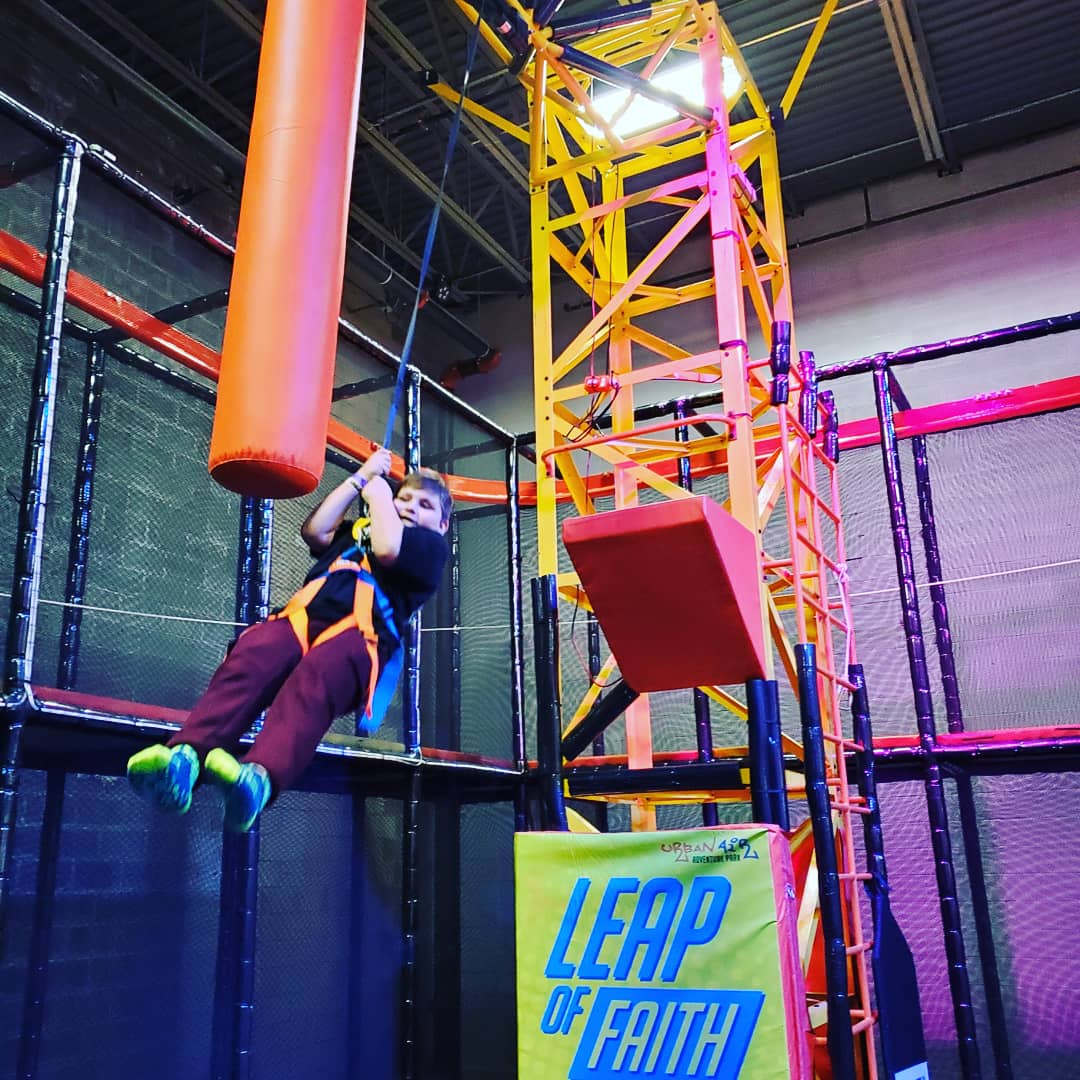 I just got home from a visit to Urban Air Overland Park with the kids, and can't stop thinking about all the fun! You see, they just re-opened after renovating the facility, and there's extra fun to be had: very much in line with the new Urban Air Lenexa, which opened at the end of 2019.
So I'm dedicating this space to our favorite aspects of the trampoline park to help you make the most of your own visit!
The kids* liked…
The new Sky Rider Zip Line and Indoor Climbing Walls
That previous favorites are still intact, including the Warrior Course for those American Ninja Warrior wannabes, Slam Dunk Zone, and the DropZone
The Cafe, which is full of all kinds of drinks a sweaty boy could ever want after jumping for an hour or two!
Easily accessible layout: Friends can split up and try different attractions, then join back up again, since they can easily find each other.
The age split: My bigger boys liked that the little ones had a space to play so there was no danger of hurting them. And while they might not admit it today, back when these boys were the littles, they played in the Tubes Playground for hours.
*As told to me by 4 boys
I liked…
Safety: I tried many of the new additions myself, including the zip line, and I found safety checks and attentive staff at every turn. The wall climbing area and the zip line staff were very well trained, had a good handle on who was doing what at all times, and was watching closely to make sure everyone was secured and safe in their harnesses. There are 2 zip line staff members working together to ensure each kid – not to mention me – was latched in tightly and securely before sending them on their trek around the ceiling. In the non-harness areas, the staff was also keeping a close eye on things to make sure everyone stayed safe. And, as mentioned by the boys, the age separation helps too. And Urban Air OP still offers Jumperoo for toddlers most Tuesdays and Fridays, 9am-noon.
Quiet space: My favorite spot was the new cafe, which is walled off and is a nice quiet space to catch up with friends, catch up on work, or – with multiple TVs around the room – catch the weekend games. Admittedly, I was boring and used the time to catch up on work. Now I can't wait to schedule a play date so I can actually have a complete conversation with friends while our kids play together! There's also plenty of bench space out on the main floor if you want to keep a closer eye on the kids.
New Check In Systems: Both Urban Air locations are also offering a completely new check in/waiver system. So you can check your child in and buy their passes all at the same time. Note:Due to the revamped system, parents will need to re-sign the waivers when you first go to either location, even if you've been to Urban Air OP in the past.
Local Ownership: We like to shop local, so it was a pleasant surprise when I learned that both KC Urban Air locations are locally owned by sisters Aimee Mayhew and Nicole Tausz. Added bonus!
One more note: Urban Air jumping socks are now required, so don't forget to bring yours if you already own them! If you forget in your rush to enjoy the fun, never fear: Socks are just $2.99/pair, so it won't break the bank.
Both locations are open seven days a week. Click here for hours of operation, stop by either Urban Air location tomorrow (Feb. 18), while many of our kids are still out of school! For updates, offers and to see the park's various attractions, go to urbanairlenexa.com and urbanairop.com, and follow on Instagram at @urbanairlenexa and @urbanairop.